Pre-op
1. The patient should understand that in the rare event of a stitch failure, by unraveling of the knot or suture breakage, a replacement stitch may be necessary to re-establish aesthetic contours.
2. Preoperative photos using standard lighting should be obtained to provide photo documentation of the ears.
3. Only those areas which can be brought into aesthetic compliance through cartilage bending will be correctable. Other problems related to cartilage or soft tissue volume problems should be addressed with other techniques.
Equipment
1. 20 gauge phlebotomy needle.
2. 3 – 0 white braided polyester suture on a large cutting needle (Mersilene TM /Ethicon).
3. Free curved needles (1834-7D Anchor Prod. Co. Addison, IL.)…optional for 2.0 version.
4. Single pronged skin hook – small.
Surgical Technique
1. Lidocaine 2% with 1:100,000 epinephrine is injected using a tuberculin syringe and 30 gauge needle. Care is taken to avoid hitting small vessels and causing ecchymosis. After pronounced blanching is achieved, the procedure may start. General anesthesia is usually required in children. Peri-operative antibiotics (usually cephalosporin) are used as a precaution against perichondritis.
2. A 20 gauge phlebotomy needle is used to produce multiple scores along the anterior surface of the cartilage for the length of the newly created antihelical fold. The needle is placed through the skin in only 2 or 3 places and used as a subcutaneous mini-knife. Care is taken not to create a large, confluent pocket that could result in a hematoma. Rather, narrow tracts allow the needle to thoroughly score the cartilage (Figure 1). Observers have remarked that this technique in some ways resembles the tunnels created by liposuction surgeons. The purpose is to break the intrinsic cartilage "spring".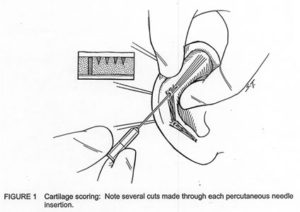 3. A bilateral series of percutaneous retention sutures is placed using incisionless technique. If necessary, ink dots may be drawn on the skin to aid with suture placement. Each suture loop is pulled tight to achieve the desired cartilage bend.
4. A measuring ruler is used to assure symmetry. Then, the final knots are placed. A surgeon's hitch is followed by 3 further half hitches.
5. After all knots are tied, a single pronged skin hook is used to help pull the skin over each individual knot. If a retracted, buried knot appears to re-exit the needle hole, a 6-0 mild chromic suture is placed through the needle hole (Figure 2). Transparent antibiotic ointment is placed on the puncture sites.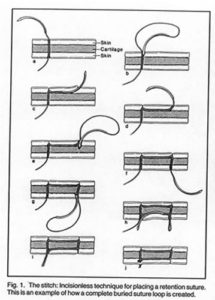 "Nuggets"
1. Breaking the anterior-sided cartilage elastic fibers and the cartilage itself with the percutaneously inserted needle helps ensure permanence to the correction. This maneuver takes about two minutes per ear.
2. The incisionless stitch technique requires that the needle re-enter the skin through exactly the same puncture site and needle tract as it exited. In this fashion, no squamous epithelium is dragged into and buried under the wound surface.
3. All stitches are placed as deeply under the ear skin surface as possible. This will prevent the possibility of extrusion or skin erosion. Indeed, half way through the stitches' course on the posterior side of the pinna, a bite into the pericondrium or cartilage is useful to help anchor the suture deep beneath the skin surface.
4. A braided permanent suture is used to prevent breakage, increase pliability, and minimize transcutaneous reflections.
5. The "usual" lop ear deformity needs about 2-3 stitches bilaterally to effect correction. With experience, each stitch averages less than three minutes to place.
6. A very slight initial over-correction would be preferred to assure long term excellent results.
7. It is recommended this procedure initially be used with the Mustarde open technique until the surgeon is comfortable with the Incisionless technique. Thus, patient expectations are met while the stress of physicians is dramatically lowered.
Post-Operative Follow up
1. The patient is asked to place ointment over the puncture points for several days.
2. Water precautions are observed for one week.
3. An oral analgesic such as acetaminophen is recommended.
4. The patient is seen 3 weeks post-operatively and as needed.
5. There are no incisions, suture removals, drains, dressings or headbands to care for in the post-operative period. Sometimes an overnight dressing is placed.
References
1. Mustardé, JC: The correction of Prominent Ears Using Simple Mattress Sutures: A Ten Year Survey. Plast Reconstr Surg. 39:382-386, 1967.
2. Furnas, DW: Correction of Prominent Ears by Conchal Mastoid Sutures. Plast Reconstr Surg. 24:189-193, 1968.
3. Stenstrom, SJ: A "natural" technique for correction of congenitally-prominent ears. Plast Reconst. Surg 32:509-518, 1963.
4. Gibson, T, Davis, WB: The Distortion of Autogenous Cartilage Grafts: Its Cause and Prevention. Br J Plast Surg., 10:257–274, 1958.
5. Fritsch, MH: Incisionless Otoplasty. Laryngoscope. 105: Suppl 70:1-11, 1995. (Early technique before cartilage scoring added)
6. Fritsch, MH: Incisionless Otoplasty. Facial Plastic Surgery. 20:267-270, 2004.
7. Fritsch, MH: Contemporary Incisionless Otoplasty. Otolaryngol Clin N Am. Dec 2009.